(EN-C record still holds)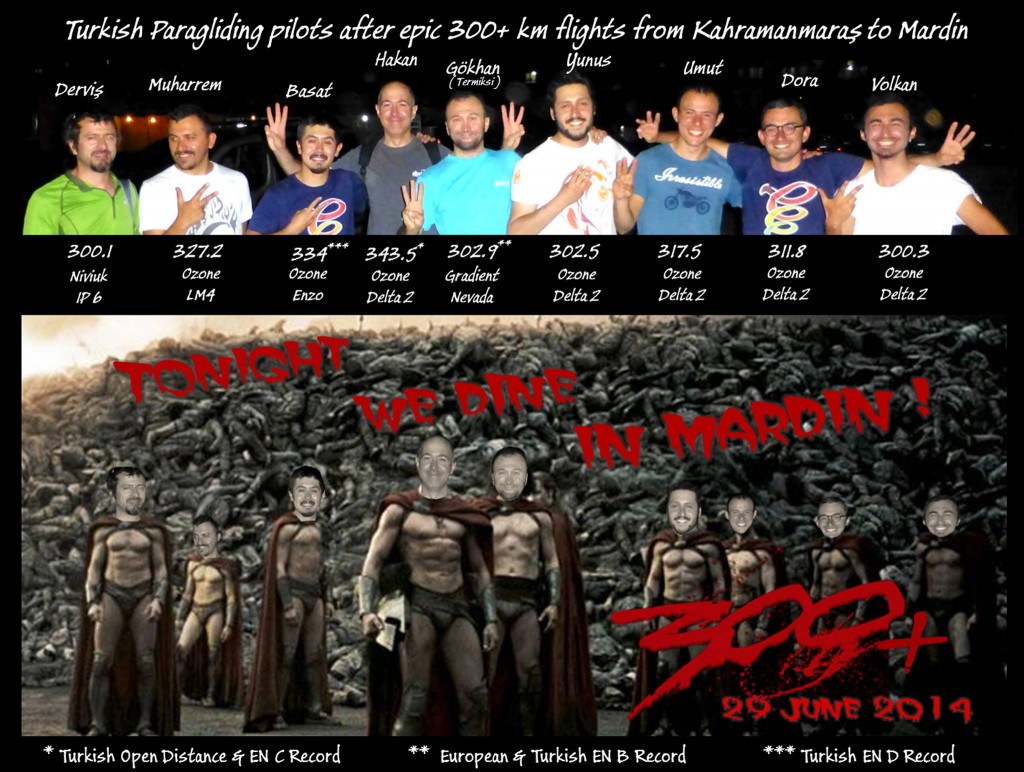 Not only a Turkish National Open Distance record, being flown with an EN-C wing, it is probably the best European XC distance in this class, and Asian as well, also the 5th best distance in the world in EN-C class (According to Paraglidingforum.com Leonardo)
What makes this flight unforgettable is that it was the first time the 300+ mark has been achieved in Turkey, by 9 pilots on the same day !
One of the pilots (Gökhan Çağlayan, aka Termiksi) was flying with an EN-B wing, which adds another European record in its class.
Here is the story and the history behind this "Unexpectedly Epic" day:
Well, it all starts back in 2000's, we were a bunch of friends who tasted the joy of free flight in the form of paragliding in our club ALBATROS, which was the first NGO about recreational and sportive flying in Turkey. One can easily get the hint about the driving force among us, hence the name "Albatros", the ultimate XC bird we know.
Between 2000 – 2010, we were all burning with "XC Fever", and we all were chasing after the big, magical "100+". Every pilot in Turkey were after this goal, a big motivation for all of us to be the first paraglider to break the mystical 100+. We were exchanging ironic "thanks" between us when one of us has bombed out before 100km mark and still leave the hope alive of being the first to grab the 100 km mark for the others. I was almost sure that I would be the first to grab the gold and get to the 100 km, however my hopes gone to the trash when 2 flying buddies from METU aviation club David Selçuk and Egemen have been the first to grab the 100+, flying together 110 km in Kayseri on 3.7.2005. From this moment on, there were new kids on the block, and the competition was full on between us, both personally and between our clubs.
Not only the physical 100km barrier, but also the mental barrier in our minds has been broken about 3 digit distances, the new goal has been set as 150+ km, and I was keen to get back "our" title, even though I still wasn't a 100+'er yet. I was constantly checking the meteo forecasts in order to be able to be at the right place at the right time, trying so hard that I became "the meteoman", and friends was waiting for my weather forecast report for the weekend. Then another big turnpoint in the Turkish paragliding scene has come when I give the XC alert for Çökelez – Denizli (a PWC superfinal site) on 5.8.2006. My goal was simple: "Fly 100+ km and get back the XC open distance record for Turkey". The take off was crowded with pilots from all over the country, the day was working so a 15 good pilots took off soon. I was a little bit late to prepare and I watched all 15 pilots going for the first glide, I quickly prepared, took off, climbed to 4000 mt, spotted the first gaggle 10km in front, glided full speed towards them, they got low at 30km over a hill but each one of the first gaggle catched the same thermal where I arrived only 50mt over ground and bombed out gloriously into a bush at 45 degrees centigrade heat, missing the end of the thermal. I've spent a full hour in the immense heat trying to get back my wing from the thorny bush, and listening to my buddies from the radio and watching them disappear into the horizon just added insult to the injury. That day the 150+ barrier has been broken by more than 5 pilots and Turkish XC record has been set to 180+ km by the "new kids on the block" David Selçuk & Egemen again, additionally Gökhan and Basat were the first pilots to break the 100+ in the DHV1-2 category, Basat leading with 174km, only to be beaten by Gokhan 8 years later with 300+ km, what a competition !.
Now the goal was the big 200+. We were flying with DHV2-3 gliders by now and everybody knew that it was a matter of time before someone breaks 200km barrier in Turkey as Basat Okay has flown 190km on 30.7.2009 to get the Turkish XC record.. Alas, 200+ wasn't going to go to a Turkish pilot ! On 11.08.2009 during the practise day of the Bayramören Pre-PWC, Yassen took off to go 230 km first time in Turkey, when none of the turkish pilots present even considered flying at all. We were burning with envy that "our" 200+ has gone to a foreign pilot..
Automatically new goal is set to 250+. Those days we had a new site Karaman, and some of the best pilots from europe were also invited to explore the new site's potential ….. and so they did !
On 22.06.2010 Patrick Andre has flown 254 km from Karaman, the first pilot to break 250 km on Turkish soil. Again we were left trying to get our record back.
Bayramören organiser Mr. Tahsin then put an attractive reward for anybody to break the Bayramören site record. This was enough to set our "XC Fever" on fire, and finally on 17.07.2010, David Selçuk (yes, again this boy!) has broken the site record with 232 km and grabbed the gold ! He has been the first Turkish pilot to see beyond 200+, and we all were left discussing the "Turkish XC record" definition, should the pilot or the route be "Turkish" in order for it to be a "Turkish XC record" ?
Those days I was still unable to make a 150+, David Selçuk dominating the Turkish XC scene, the competition was getting harder as new and young pilots flying with the latest hot-ships added to the community, and globalisation was getting the better of us all with foreign pilots keep breaking our goals and hopes !
For 2011 season, my dear friend Ziya (who's name would be added to the record breakers later) lended his Ozone R10 to me, and on 3.7.2011, I've managed to fly 255 km from Çökelez – Denizli. It was a kind of "Hey Çökelez, there was a frustrated bombed out guy, do you remember?" scene for me. Breaking the Turkish XC record I've put an end to the discussions about whether David Selçuk or Patrick Andre has the "Turkish XC record".
The next year, on 20.8.2012, my dear friend Ziya took his glider and the XC record back from me, with a 258km flight flown with Yurdaer, a very competitive and ambitious pilot.
The competition among us was again heated up, another strong contender and former XC record holder Basat Okay, managed to equalise the Turkish XC record with exactly the same distance of 258 km now shared by 3 turkish pilots.
The year 2013 was spent in pursuit of 300+, unfortunately no to avail.
2014 was so slow to start, weather being sunny on weekdays but a lot wetter on weekends.
Meanwhile one of the best instructors and pilots in Turkey, Muharrem "Maho" Kılıç was inviting us to fly a new site at southeast of Turkey, whereas it was quite far, our appetites being fueled by recent 100+ flights from this new site. One of the local pilots has drawn our attention by sharing a forecast for the site, backed up by Maho, and accepted by Basat. I've quickly checked the forecast myself and it was obvious that if we were gonna try this new site, this was our chance. We have quickly bought our plane tickets to Gaziantep, and the 3 Albatrosses, myself, Gökhan and Basat were on our way.
The saturday wasn't too promising, so we considered it to be the practise day, as I wanted to become familiar with my new glider Ozone Delta2. One hour into the flight and we were not gaining much altitude, inversion layer refusing to give way, I decided to land and call it a day.
After landing, I was expecting to see the other pilots struggling around take off or coming down to land, however many pilots were missing. Soon we have got the news that they managed to get away and the day has got better and better on their route, a handful of pilots including the never giving up Basat, managed to fly 100+ on that otherwise a mediocre day.
As the saturday XC pilots came back, we discussed their observations vs meteo forecasts. Meanwhile most of the internet weather forecast sites were indicating winds up to 50km/h for the following day, and the howling winds outside was like conforming the forecasted winds, and our hopes started to fade away. We had a good time that night together, but you could smell the disappointment in the air. We all gone to sleep hoping the smallest chance to take off in the morning.
29.06.2014:
The day started clear, sunny and no wind ! This time you could smell the hope in the air, and everyone was busy with preparations they did not care to do last night, charging batteries, downloading previous day's tracklogs, etc. A check on the weather forecast for the day confirmed what we are seeing from the window. The strong wind during the night has both cleared the haze and bring a colder and drier air mass, and the wind direction was perfect for long distances. Even though the wind speed decreased, still strong winds were forecasted into the day, so we decided to go and take off earlier than planned.
We have arrived to Narli take-off around 10 o'clock. Everybody was eager to fly before the wind picks up, and was preparing fast. One very important factor in XC record breaking is to manage the bladder control. I know very sad stories that ended prematurely which may otherwise could go for glory. My strategy is never drink diuretic liquids like tea or coffee in the morning, hydrate as much as I can until 1 hrs to the take off, and dump the excess water in my body just before the take off. Then during the flight, I sip from my camel back as I need. I did exactly like this and when I return from dumping the excess hydration, I saw the group photo shoot on take off disbanding, ironically me being the only pilot missing in the group picture.
As I continued to prepare, ready pilots started to take off already, by the time I got ready, a gaggle above take off was turning in nice thermals with Basat on top. Basat was one of the 3 pilots holding the current XC record, and the only one present at the site. In recent days, he was taking every chance to break the XC record himself, he was highly motivated, well trained and ambitious. He was now defending his title against us and his flying style was to fly solo rather than group flying and his motto is "attack attack attack". So I expected him to fly away even before I took off, however I was surprised to find him waiting on top of the gaggle, keeping his advantaged position. We were now at the top of the thermal, turning zeros and slowly drifting with the wind. Any moment Basat could begin the first transition but very unlikely for him, he was still waiting. Not being a very patient pilot myself, I decided to go first. Later Basat would confess that he did not want to risk bombing out so early in the day and decided to fly conservatively using his altitude and wing performance advantage over the group.
After leading the group for a few minutes thinking if I would be able to find a thermal or would I bomb out first, I hit gold: A very nice +3m/s, and I saw all other wings rushing up to me. Most of them were left below so no problem but Basat using his altitude advantage was coming full speed head-on like japanese kamikaze fighters. He was afraid to bomb out early but obviously more afraid to let us go without him. From this second thermal of the day, we were the leading group together with Basat, myself and Dervish, until the Euphrates. I was a little bit concerned about my new EN-C wing's (Delta2) performance against the other two competition EN-D's (Basat's Enzo and Dervish's IP6) however I could easily keep up with them up to half bar, our ground speed was above 90km/h !
We were over the 3000mt's for some time and I felt a little bit thirsty. Thanks to my camel back, I grabbed the hose and tried to suck in some water. However something was wrong and despite how desperately I tried to suck, I barely managed to get a drop of water. I know that if I cannot hydrate myself sufficiently, my performance would be affected badly and I could bomb out prematurely. After a few more unsuccessful tries, and having nothing to loose, I decided to approach to the problem from a different angle: I blowed into the camelback! That somehow solved the problem and I enjoyed the cloudbase cooled water.
Over the Euphrates, Dervish skipped a thermal and got low, we lost track of him. Basat & I were headed towards the first cloudstreet of the day, discussing our destination as Mardin or Diyarbakir. We decided for Mardin and by the time we have reached to the cloud streets, Another glider went past us from a distance with more speed and altitude, I wondered what kind of glider and performance this is ? A short investigation over the radio revealed this contender as Yunus on his very standard Delta2. I asked him if he managed to mount a turbo on his glider or what, he replied that he doesn't thermal under the cloudstreet and doesn't let go of the bar. Fair enough!
Now Basat was chasing Yunus instead of me, and as I was getting low at the end of the cloud street, unable to find a thermal, I was less a threat for him. I've lost track of Basat and I knew Yunus was way up and ahead of me, however I had a much more important and urgent agenda: I was below 500mt over ground and I could feel the heat, partly because the air down below was really hot above 40 degrees celcius, but mostly because I was bombing out ! During the last hour I have heard many friends bombing out and warning over the radio about the strong winds and landing going backwards, some of them being dragged and bruised. And there I was on my final glide, the ground below me rushing at an alarming 80km/h, my altitude over ground below 100mt and my face burning by a "hair dryer" kind of heat, my heart starting to pump adrenaline all over my body, and my brain at overdrive, heavily focused to find a lift as if landing is really not an option.
I first tried a herd of lambs, they are usually very successful in triggering thermals, unfortunately not this time! Then for my last chance I headed to the nearest village, not sure if my altitude is sufficient enough to glide over to the other side of the village, now my only and last chance for survival, as landing right in front of the village and being dragged by my wing in the narrow streets of the village was not an option either. In life threatening situations one has his/her perception so open that he/she can see and remember every small detail around. As I glide past uncomfortably low over the village with an incredible ground speed, I remember the details of the houses, the cows in the barn, some kids playing in the streets, the old car abandoned in the backyard, etc.
And I hit the gold again ! The lovely sound of the vario, and I turn 180 to face the wind, my gps is showing the ground speed 2 km/h, but I'm just too concentrated to catch the thermal to look if I'm going forward or backwards ! Without turning I'm rising in the triggered thermal waiting for the strongest part. As my vario beeps a steady 6mt/s, I crank into the core and beam up to 3000+ in less than 10 minutes. I'm back in the game.
As I continue to rise towards orbit above 4000 mt, I thermal past Yunus, and he joins me after this point. Now Basat being 10km behind us, Yunus and I are leading, we celebrated Yunus on his first 200+ over the radio, and the new Turkish XC record is within our reach.
Over Viransehir, Yunus and I catch a very nice thermal and having the same gliders we thermal very close, our wings and our smiles were ear to ear. Then a "die hard" Dervish comes from nowhere and glide past us at speed. We called him on the radio but he did not reply, dead batteries or sneaking to get the lead, we are not sure :) Meantime we heard Basat on the radio that he catched up with us from below and trying to climb to our altitude. He must have flown really fast to close 10km gap between us.
As the day approaching to end, the most difficult strategical decision is, if this thermal is the last one then we should climb it to the max no matter how weak it is, or else we should glide at speed to catch one last thermal before the day dies.
Yunus and I were cautious and we tried to max our altitude before gliding at speed to the next thermal. We smashed past the "previous" turkish XC record at 259km, now the new goal was the magical 300+. I have spotted a few clouds slightly to the left of our course, and called Yunus, however he was fighting with the call of nature, not being used to fly so long in the air and inexperienced in bladder control, he decided to fly past the thermals with big ears and land asap. No longer than a few minutes, he changed his mind and declared his decision to go for 300+, he would discard a kidney in favor of 300+ :)
Meanwhile I was approaching to my clouds slightly off course, at the maximum altitude of the day, I celebrated my 300+ at 4800mt. It was obviously the last thermal of the day and I let my wing glide as far as I can. Approaching to the ground, I started to look for a safe landing. I knew I should be close to the Syrian border, however I couldn't exactly spot the border line.
As I got lower, I saw military posts right at the right of the main road from Kızıltepe to Nusaybin, and decided to land to the left of the road. After a glorious final glide of more than 40km's, I touched back down to mother earth after 7 hours and 343km flight. I was just 20-30mt away from the mined border line. As I started to pack, a military vehicle came towards me and I knew I was in trouble, as this was a sensitive area and I was flying with all the spying equipments like a radio, a gps and a camera. I tried to push away my cockpit under the wing as the commander approaches. I was trying to think fast, I could fake a tourist but producing an ID would be a problem. He just asked me where I'm coming from, warned me about the mined area along the border, asked if I needed anything and left even without asking an ID! Quite unexpected while I was trying to calculate how long in detention would worth 343km and the Turkish XC record.
I just hitchhiked back to Kızıltepe to meet with the rest of the team and boy they were crowded! Gökhan (a.k.a. Termiksi) having flown with an EN-B wing, he bagged the European XC record for EN-B class. Later we have found out that in EN-B class he is the 3rd best pilot and 5th best distance worldwide. Myself flying with an EN-C wing, 343km is probably the 2nd best in Europe and 3rd best in the world in this class regarding the pgforum leonardo records, with the added bonus of 4300+ mt "Height Gain" according to FAI definitions. These results, altogether with 9 pilots having broke the 300+ barrier on the same flight, was really unexpectedly epic.
This flight had it everything for me: I had the Turkish XC record again, I've made 300+ and I've flown with friends all along. It was a big success for our club ALBATROS too, we had the best 2 distances with Basat and myself, and we had the best Turkish XC distances on all 3 classes EN-B, EN-C and EN-D.
Thanks to my beloved wife Sibel who supports me on my endless dream to fly. My sponsor VEMA Pneumatics also deserves a mention in that success, and I also owe a big thanks to our friends who invite and host us with their endless hospitality, local pilots Mahmut Hopur from Kahramanmaraş and Ömer Turgut from Gaziantep and their teammates.
Edit: The overall Turkish XC record has been upgraded to 346 km 6 years later on 19.07.2020 by Dora Göksal, flying a Boomerang 11. Congrats mate ! https://www.ypforum.com/leonardo/flight/71214
I'm still holding the EN-C record though, let's see who and when to break that up for EN-C class, good luck everyone :)
Flights:
Pilot, Straight line dist, Class, Wing, Club / Sponsor
Hakan Akçalar 343,5 km EN-C Ozone – Delta 2 ALBATROS / VEMA
Basat Okay 334,0 km EN-D Ozone – Enzo ALBATROS / NEXT
Muharrem Kılıç 327,2 km EN-D Ozone – LM4 METU / UÇARI
Umut Yetiştiren 317,5 km EN-C Ozone – Delta 2 METU
Dora Göksal 311,8 km EN-C Ozone – Delta 2 METU
Gökhan Caglayan 302,9 km EN-B Gradient – Nevada ALBATROS
Yunus Nedim Mehel 302,5 km EN-C Ozone – Delta 2 METU
Volkan Gümüşkaya 300,3 km EN-C Ozone – Delta METU
Dervis Mahmutoglu 300,1 km EN-D Niviuk – Icepeak 6